Tulsa Wedding Venues
See New Places | Gain Insight | View Contact Info
The Top 28 Wedding Venues Tulsa OK Has to Offer
As Tulsa Wedding Photographers for over a decade, we have photographed hundreds of weddings in and around the Tulsa area and decided it was time to craft a list of the best wedding venues in Tulsa, OK. Whether you are looking for venues in Tulsa, or the surrounding area, it is our hope that this list is of value!
Enjoy!
-Tabor
810 Ranch
The latest addition to our top venues list is 810 Ranch. Located in Muskogee, Oklahoma. This beautiful facility needs little if any decor. The spacious, tall, white walls are host to incredible picturesque windows and several french doors leading to the fishing pond (available to the bridal party during getting ready as well). The hosts are kind, and the sunsets are beautiful. If you are looking for outdoors, place 810 Ranch on your list!
Agora Event Center
With a seating capacity of up to 450 guests, Agora Event Center can easily accommodate your ideal wedding and reception. Enjoy first class service from one of the most elegant venues in Tulsa next to breathtaking views of downtown.
The Bella Donna Wedding Chapel
Formerly known as the Vesica Piscis Chapel in Catoosa, The Bella Donna Wedding Chapel is one of our favorite wedding locations as well as another one of the amazing wedding chapels in Tulsa. Built out of a love and respect for the old European Chapels, every inch of The Bella Donna is intentional in look and design– consequently, weddings that take place at the chapel run smoothly since so many intricate details have been meticulously considered.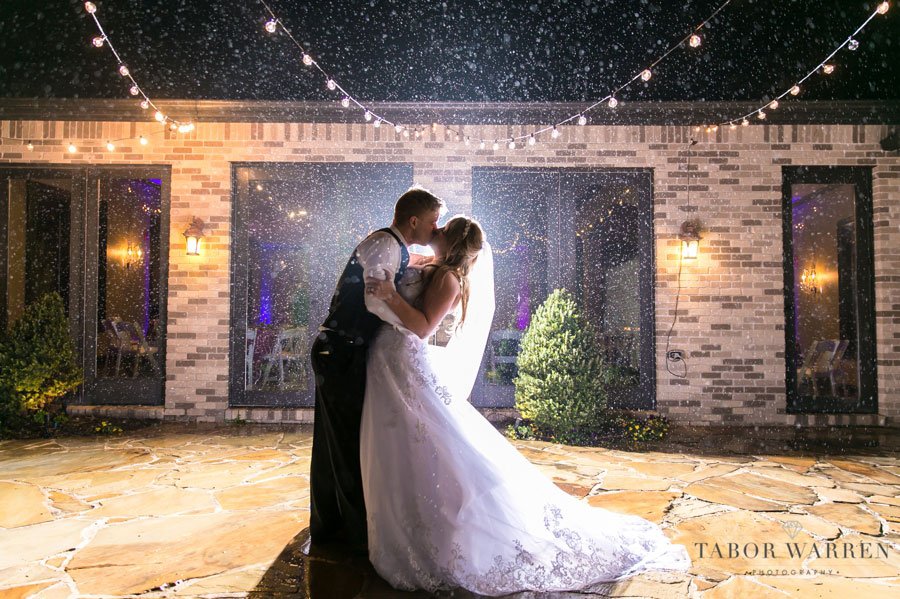 Bellissima Ranch
Bellissima Ranch has multiple facilities on-site, allowing you to have your ceremony in one building while your reception is set up and ready to go in the other! Enjoy a stay with your friends at the on-site guesthouse while you take in the magic of your wedding day!
Camp Loughridge
From the beautiful Kirkland Chapel overlooking Parthenia Lake to the vast and modern Temple Conference Center, Camp Loughridge is home to weddings of all sizes. With a variety of wedding locations on site, Camp Loughridge is just as versatile as it is beautiful. Regardless of the time of year you are planning to get married, you will have several amazing options available. While you are there, be certain to head down toward Parthenia Lake and imagine the photo possibilities, (especially in the fall).
Cedar Ridge
If you're looking for an elegant setting with full service dining, Cedar Ridge has got you covered.
Dream Point Ranch
Located just south of Tulsa, Dream Point Ranch is truly a site to behold. This stunning property has been in Owners, Sarah and Jason's family for almost 30 years and they are passionate about sharing its beauty with others. Whether you're searching for a large, open event space or a smaller, intimate facility, both the Mountain Crest Venue as well as Riverbend Chapel are sure to provide you with the perfect space for any wedding or reception.
Dresser Mansion
The Dresser Mansion in Tulsa, Oklahoma is a stunning and elegant venue that provides a unique and unforgettable setting for your wedding day. Built in 1909 by oil tycoon Waite Phillips, this American Arts and Crafts style mansion boasts a beautiful entrance hall, a spacious living area with a fireplace, a formal dining room, incredible library room (my favorite room in the mansion), and a stunning outdoor setting for your ceremony and/or outdoor reception. Whether you're looking for a classic, timeless setting or a unique and historic location, the Dresser Mansion is sure to make your wedding day a truly magical and memorable experience.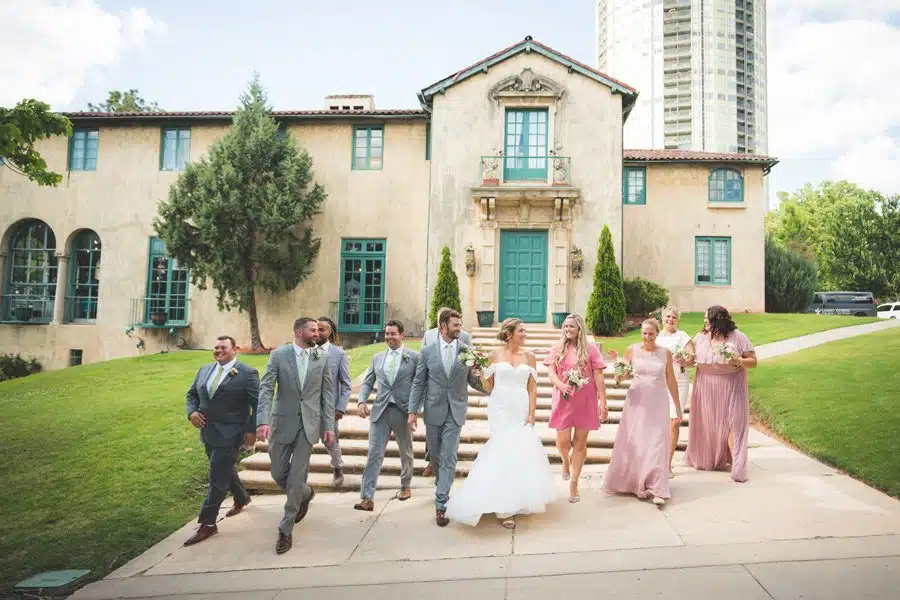 The Golf Club of Oklahoma
Get ready in a full-size home, enjoy a round of golf, dine in luxury, and soak in the relaxing atmosphere found at the Golf Club of Oklahoma. When it comes to wedding reception venues, Tulsa has several amazing choices, and the Golf Club of Oklahoma certainly sits at the top of that list. Beyond the wedding reception aspect, The Golf Club of Oklahoma has some of the most photographic locations for getting ready photos. Want to feel better about your golf game? Ask Em or I to join you prior to the wedding day! 😉
The Glass Chapel
The Glass Chapel of Broken Arrow is one of the most unique wedding chapels in Tulsa County. Conveniently located on the border of Broken Arrow and Tulsa– The Glass Chapel is quietly tucked away in the woods. When you enter the grounds of the glass chapel, you'll find yourself immersed in a paradox. This gorgeous venue offers an incredible escape from the busy city life by keeping the beauty of nature on full display throughout the glass windows that encompass the entire property.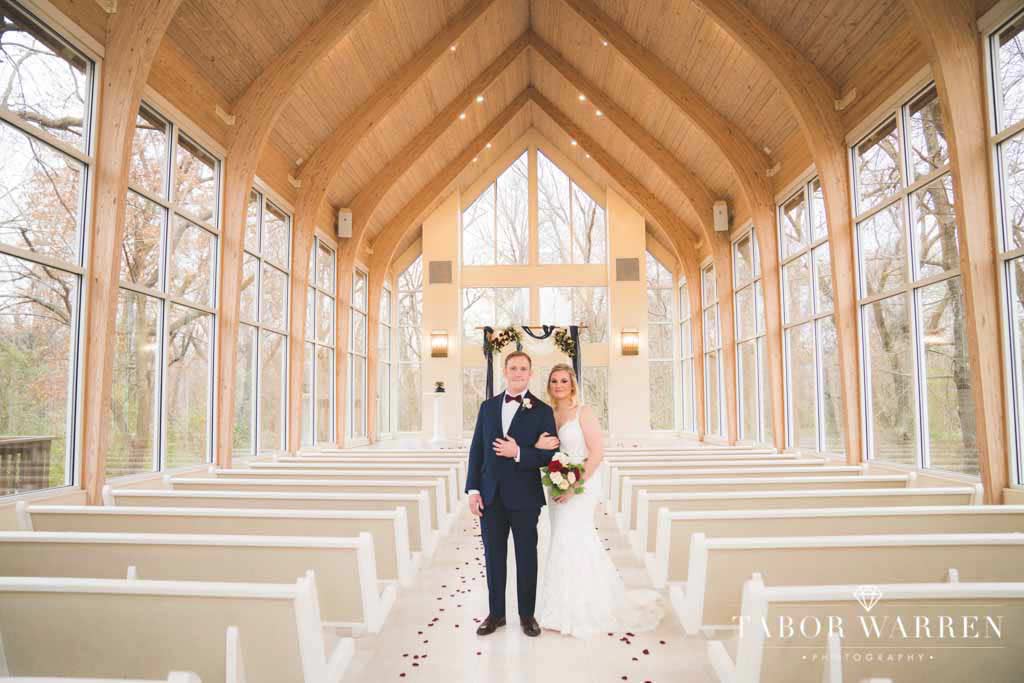 Harweldon Mansion
The Harweldon Mansion in Tulsa, OK is a stunning, historic venue that offers a picturesque setting for your special day. Built in the 1920s, the mansion boasts a grand, columned facade and elegant interiors that exude old-world charm. Inside, you'll find spacious rooms with high ceilings, chandeliers, and large windows that fill the space with natural light. The mansion's lush gardens and manicured lawns provide a perfect backdrop for your ceremony and outdoor receptions. Whether you're looking for a grand, formal affair or an intimate, intimate gathering, the Harweldon Mansion is the perfect choice for your wedding.
Jameson's Manor
Enveloped in modern elegance, The Reserve at Emerald Falls is ideal for creating an amazing wedding day for you, your bridal party, and your guests alike! As one of the newer Tulsa wedding venues to make the list, The Reserve offers a fresh approach to the intentionality of wedding venue design. The bride's suite and groom's suite are separated, but close. The outdoor ceremony location is connected to the indoor/outdoor reception area, and the speaking of the reception, while there you definitely need to look at the back patio and think of the amazing opportunities found for your guests to enjoy each other's company.
The Legacy at MK Ranch
Located in Tahlequah, OK, the Legacy at MK Ranch provides an amazing 8,500 square foot blue barn with a beautifully modern interior. The windows encasing the barn are massive, providing an amazing view of the outdoors year round. At a 350 person capacity, the Legacy at MK Ranch can host large or small weddings comfortably.
The Mayo Hotel
If you are looking for a historic hotel for your ceremony, the Mayo hotel is here to deliver. Even if you're only looking for wedding reception venues around Tulsa, The Mayo still has you covered. Be sure to ask them about their weekday offers if you are needing a more affordable option. If you are simply looking for a wedding reception venue, ask about the rooms on the Mezzanine, as well as the Grand Ballroom upstairs. For ceremonies, the Ballroom or grand staircase are both amazing options. Regardless of if you have a large or small wedding, the Mayo has options well suited for the elegant ceremony and reception you've been waiting for.
Meadow Lake Ranch
With old growth forests, limestone rich lakes, and a sprawling meadow on the western end of the properties, photo opportunities are rich at Meadow Lake Ranch. Located just west of Tulsa, Meadow Lake is perfect for anyone seeking unique outdoor wedding venues in the Tulsa area. At 300 acres in size, your guests have space to spread out and relax. Cabins are also available for any out of town guests that may be visiting as well!
Moore Farms Rustic Weddings
Every day is a good day to get married, especially when you get to choose between the open, semi-enclosed, or fully enclosed ceremony/reception options at Moore Farms Rustic Weddings. With so many outdoor wedding venues near Tulsa, OK, it can be hard to sort through which ones may be the best option for the time of year you are getting married. At Moore Farms, they have options for every season.
Moore's Flying M Ranch
With a new barn and rolling meadows, Moore's Flying M Ranch is a gorgeous background for those seeking a true Oklahoma wedding. We touched on the new barn, but seriously, you need to go look at how beautiful this place is! The second story within the barn allows for unique angles during the ceremony and reception, and the field surrounding the barn lead to amazing sunsets and perfect golden light.
The Patriot Golf Club
Get ready with your bridal party within your separate cottages, take in remarkable views from the course, and end the night in a reception hall ideal for a great time. This is hands down one of my favorite Tulsa wedding venues, (albeit technically in Owasso). The Patriot has some of the most timeless architecture found in any venue. The reception hall is beautifully lit, and can easily transition between bright and white with stunning dark accents into a reception hall that is dimly lit for an incredible dance experience.
Pecandarosa Ranch
Janet and Wes, owners of Pecandarosa Ranch are beautifully passionate about making sure you have the absolute best wedding day experience. The facilities at Pecandarosa Ranch are absolutely stunning and as someone who have photographed hundreds of weddings, I have yet to see a location quite like Pecandarosa Ranch. Nestled within a pecan grove in Claremore, OK, Pecandarosa Ranch is truly a sight to behold.
The Philbrook Museum
Regarded as the epitome of elegance, the Philbrook Museum is home to one of the most beautiful landscapes in the North America. Having hosted dozens of Tulsa weddings over the years, The Philbrook is well equipped for outdoor ceremonies of various sizes. Most notably, the location under the classic tempietto has incredible views of the gardens with the historic mansion in the background.
POSTOAK Lodge & Retreat
With hillside views of downtown Tulsa, and lodging for your guests, POSTOAK Lodge is fit for weddings of all sizes. There are so many amazing wedding venues in Tulsa, OK, but few have the lodging options available with POSTOAK Lodge and Retreat. Your entire family can come and stay on site at POSTOAK, allowing you peace of mind that certain family members will arrive on time to the ceremony. 🙂 Even those searching for small wedding venues in Tulsa will find options available at POSTOAK.
The Silo Event Center
Whether you are looking for the best indoor or outdoor wedding venues Tulsa has to offer, you should consider the Silo Event Center. Known for it's versatile nature, The Silo offers multiple ceremony locations right on site. With dedicated bride and groom suites fully outfitted for your wedding day. Everything is ready to go for your ideal wedding to occur. While you are there, be certain to take the short walk up the hillside to see the incredible round ceremony location with 360 views!
Spain Ranch
Spain Ranch is one of my favorite elegant venues. With immaculate grounds hosting two beautiful barn options encased in either black or white, the photo opportunities are innumerable. If you are looking for a classy venue for your wedding and reception, you would be well served looking into the barns on Spain Ranch.
The Southern Hills Country Club
The Southern Hills Country Club is one of the most elegant options in the Tulsa metro– perfect for those looking at a modern yet timeless wedding day. When looking at Tulsa wedding venues, it can be challenging since so many of the "wedding venues in Tulsa, OK" are actually "wedding venues near Tulsa, OK". Southern Hills, however, is actually seated right in the middle of Tulsa in between 51st/61st, Lewis/Harvard, it is an ideal location for weddings of any size.
The SPRINGS Event Venue
Soak in the sun from your view over Skiatook Lake before heading into the expansive reception hall, perfect for dining, dancing, and socializing with family and friends. This is seriously one of the most amazing wedding venues in the Tulsa area. The outdoor ceremony location stays green year round, but if you would prefer an indoor option, rest assured The SPRINGS has you taken care of there as well! With an event venue large enough for hundreds of your favorite family and friends, and the possibility of even flipping the indoor space, there are countless opportunities there to help craft your perfect wedding day.
The Steel Barn Event Center
Located just North of Tulsa in the quiet country town of Talala, OK, the Steel Barn Event Center reflects an atmosphere as beautiful and calm as the surrounding countryside. The Barn itself is spacious and updated while maintaining the  authentic feel of a true Oklahoma wedding. The bridal suite is bright, beautiful, and large enough for amazing getting ready photos. The double doors leading into the main space are perfect for your grand introduction during the processional. The outdoor arched pergola is a perfect backdrop for an outdoor ceremony, family formals, or even an iconic nighttime creative of you and your spouse together! Whether you are looking at the Steel Barn Event Center for the affordability of the location, or functionality of the layout, you are in good hands with Michelle & Monty.
The View at Hillside Barn